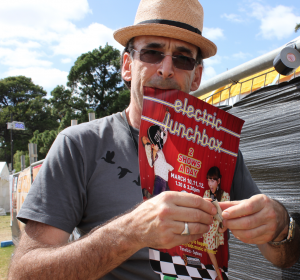 I wonder how many drummers have had a gig as strange as the one I did this weekend…? Allow me to set the scene…the mighty Electric Lunchbox, the rockinest kids band in Oz (and I mean 'band' – there is not a backing track or a lip-sync or sweaty animal suit in sight) was booked to play at the big Harmony Day Festival community event in Ryde Park on Sunday afternoon. The 'Box was hot to trot and ready to play to a big crowd, having had a scheduled Australia Day gig at the same venue cancelled due to days of rain occasioning sodden ground. A full back-line was to be provided but I arrived early, unsure if the supplied drum kit was onstage after being used by prior acts or if it still needed to be set up. When I arrived there was no kit on the stage so I peered around the back – nothing there either. Hmm. I approached the stage manager, Nope – no drums here, he said, showing me a work sheet that clearly indicated Electric Lunchbox was a duo who only needed two mikes and a D.I. box. (Gulp…) 'Errr – no', I says 'We're not a duo, we're a full band – drums, bass, keys, guitar, five vocals.' Hurried and harried phone calls revealed an embarrassed event organiser who apologised profusely for the mess-up, but there was nothing they could do to rectify it.
So here I am, about to do a gig and there is no kit. Indeed the only actual drum gear I had was my sticks-bag and cymbals. Due onstage in an hour hence no time to whip back to Bondi to get my kit, but the show must go on lest we be torn apart by the hordes of sugar-fired ankle-biter EL acolytes milling hungrily around the mosh pit. Necessity is the mother of invention – sorry, I normally avoid cliches like the plague – so we scrounged a bass drum from the polynesian dance troupe who were to follow us (no pedal – just the drum) and I set that up as a floor tom. I set my cymbals case at my right foot as a stomp box and put a mike over it. I placed an emptied briefcase on a folding chair in front of me, a tambourine on a cushion upon another folding chair– we set mikes over each of these – and a few minutes later away we went, with me using the briefcase as a de facto snare drum, a tambourine as a high-hat/cymbal, a cymbal case as a bass drum, a bass drum as a floor tom, and a chair seat and frame as the rest of this de facto kit. And we played a mighty gig – we laughed ourselves stupid, had a ball, the crowd loved us, the kids went nuts, they'll probably be disappointed next time when I have a proper kit ('Oh he's sold out – I liked his earlier, funnier work…')
Do any fellow batteurs have a story to match this…? Come on. I dare yiz..