About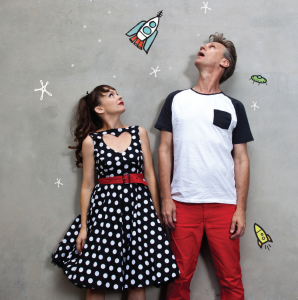 "Rollicking"… "Multi-talented"
- Rip It Up Magazine
Electric Lunchbox started as Jayde & Steve, a husband and wife duo who released their debut album in December 2010.
Being mad for music, they managed to weave their love of 50′s Rock 'N' Roll, Rockabilly, Motown, Doo – Wop, Country and even Spaghetti Western into their own unique style. They then wrote, recorded and produced the album in their Sydney studio with one intention – to get kids and their parents singing, dancing and laughing. After persistent requests from fans to play live, they recruited three of Sydney's hottest musicians, added four dancers (the 'Little Lunches'), and all nine have totally 'rocked, rattled and rolled' venues and festivals in Sydney, Melbourne and Adelaide ever since.
With the recent release of their second album HEY!, new videos on the way, and a busy gig diary filling up (including a recent appearance at the massive City Of Sydney Christmas festival in Hyde Park), dance floors across the country are set to ignite with K-indie-Rockers.
DID YOU KNOW ?
- Their first single 'Prawn Crackers' took out an award at the coveted 2011 Australian Songwriting Contest in the Songs For Children category, and even won a spot on the playlist for US rock festival Lollapalooza's junior arm, Kidsapalooza… not bad for the first song the duo wrote together;
- Steve is also an actor, and his latest credits include being the voice of B1 in the animated series of Bananas In Pyjamas for ABC. They are currently recording the 2nd season. He also plays the ageing rock-Dad Gene in the series CJ The DJ… he obviously had a wealth of material to draw from for that one;
- Jayde appeared on – and won – Adelaide's very own Pot Luck back in 1986 in front of Ernie Sigley & Bernard King, where she was also spotted by a Young Talent Time scout and flown to Melbourne to audition for Johnny Young. In 2005 Steve and Johnny both worked at radio station 96FM in Perth. How many degrees of separation is that? ;
- The band's drummer PJ played the role of Kundalini in the Australian movie classic Mad Max, where he famously lost his arm. Thankfully he got it back in time to be the percussionist for The Models on the famed Australian Made Tour in 1986;
About Jayde
Jayde has been a performing since she was a kid, training as a dancer in all styles since she was 3, in her native Adelaide. During her childhood she appeared regularly in commercials, kids television programs and the mini series "Shadows Of The Heart", performed with the SA Youth Opera, The Australian Ballet, and came perilously close to becoming part of The Young Talent Time 'Team'… but that was MANY years ago…
After graduating from WAAPA with a BA in Dance, Jayde moved to the "big smoke" and where she discovered her love of Vietnamese food and her future husband and collaborator, Steve Shanahan! Busying herself working in many independent theatre productions as a Performer, Choreographer, Producer and settling in Marrickville with Steve, Jayde and Steve started a family together.
Deciding that being the mother of two small children didn't keep her busy enough! Jayde took on the role of director of the Music and Movement program at Redfern Community Centre in Sydney in 2009. It was during this time Jayde noticed the limited music options available for kids to actually dance to (that wasn't cutesy or too grown up), and decided to start working with Steve on their own kids music… and whoalla… Electric Lunchbox and their third child, Danny was born.
Jayde is passionate about creating new music for kids and families which is engaging, entertaining, fun and a little bit silly. She is constantly motivated by her own children, her husband, and ALL the children she teaches, and knows that Electric Lunchbox is a really special opportunity for the whole family.
In 2012 she created another new adventure … Lunchbox Kids – dance, music, movement, and singing classes, without all the extras. Her philosophy with Lunchbox Kids is create an environment where kids and families can come and dance, move, learn new songs, new skills, interact with their children, and have a bit of fun in a relaxed but structured, safe and non-competitive environment. The feedback and growth of the school has been overwhelming! And everyday she is surprised at the level of growth and improvement in the kids, without the need to compete. Getting kids to think creatively as well as keeping them active, and making sure they're having fun with great music is a real treat!
About Steve
Over the last 20 years Steve has become one of the country's most sought after animation voices, with credits including Tracey McBean, Bottletop Bill, CJ The DJ, and now the plum role of B1 in the new animated series of Bananas In Pyjamas (After years of rolling their eyes, his children are finally impressed). In that time he has also lent his pipes to countless TV and radio advertising campaigns.
Since graduating from WAAPA in 1992 Steve has also worked extensively in theatre, film & television, taking out the Best Actor Award at the 2003 Festival of Perth for his role in David Mamet's The Duck Variations.
Steve has written and performed comedy spots for ABC National, and spent 2005 as chief writer and co-presenter on the Breakfast Show at Perth's 96FM. He is also currently in the pre-production stages of a TV series he has created.
Steve also writes, plays and records music, and has been a member of several bands in both Perth and Sydney. He has a nifty studio in Marrickville, where Electric Lunchbox's two albums were recorded.
With Electric Lunchbox, Steve has the rare opportunity to combine all of his different skills and passion for quality kids entertainment. Nothing is too wacky for Electric Lunchbox, and he and Jayde laugh alot. Hey, they figure that if they're laughing, you probably will too.