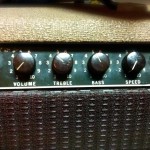 So we meet every Thursday night, it's dark, it's cold, but we have one intention… to get this second album finished!
We are recording this album very differently to the last – more of an 'all in', live approach. Many of you are probably wondering is this easier? Does it save time? Well, the answer is no. Not easier, just as time consuming, but it is MUCH more fun. We get to hang out, we get some visitors in the form of ex-Light Heavyweight Champions of the world, we get to play around with new sounds, jump over leads, talk music, play music, and be a bit immature! Being in the studio to record is very different to rehearsing for a gig. Where we might run through the songs a couple of times before a gig, when you record you play the song over and over again, and again and again until it's right. Now we aren't Bob Dylan's band (well almost not,our drummer PJ also plays in Dylan tribute band Tangled Up In Bob) so we can't just play once and have that be the take, as in Blood On The Tracks, but what do have is a much more full, live sound, with all the intricacies and personalities of our band members popping up throughout the songs. And I must say… it sounds gooooood! So we have officially recorded two full songs. We trashed one night's worth of recording because when we listened back it all sounded a little bit cautious. We are a rocking kids band after all and we want our recording to sound like that. The idea was to get through a couple a night, however it takes a while to get the 'right' sound, and Steve is a bit of perfectionist when it comes to that. Hey, it takes a long time to become an overnight success. But never fear, we have a plan, and our plan is …. wait, we don't want to give away our secrets, but all things going well, you should have your new Electric Lunchbox album in Christmas stockings on Christmas morning.
Now… while we're on the topic of tribute bands, we thought it essential to also acknowledge Dave on Keys who also plays in a Deep Purple tribute band, it's not a regular gig but he certainly gets to channel his inner rock god for the night. Steve and I ? Well I'm sure if there was a White Stripes tribute band I could try and talk him into it, and Frank our bass player… well he just "Doesn't DO tribute bands".